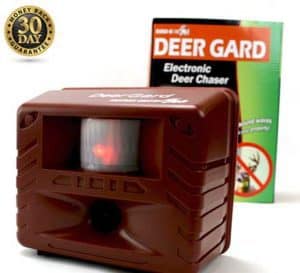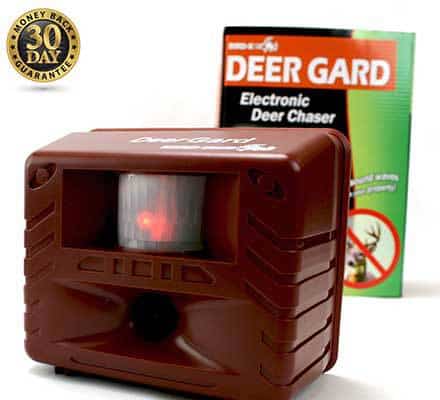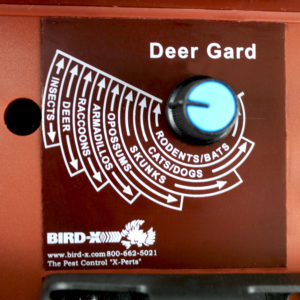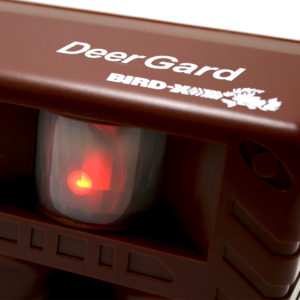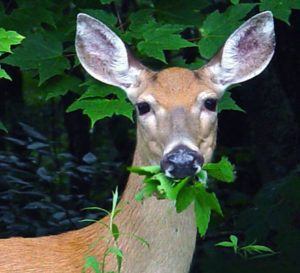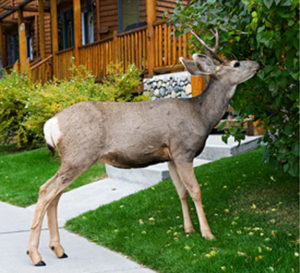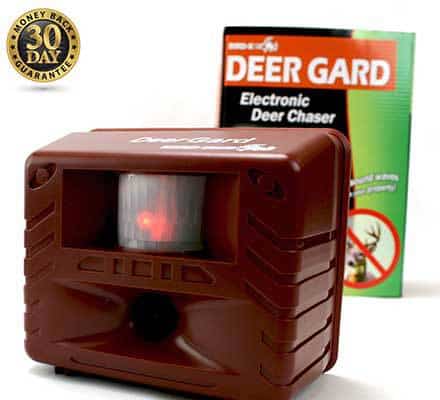 Deer Gard

  Ultrasonic (Silent) Deer Repellent Device

  Humane, Easy to Use and Extremely Effective

  Protects Gardens and Lawns from Damage

  Money-Back Guarantee
Deer Repellent Made Easy. Safely keep pest deer away from your outdoor space without chemicals or traps.
Great for any outdoor space
Water and weather resistant
Protects up to 4,000 sq. ft
High-frequency soundwaves (silent to most humans) irritate deer, making them flee to seek calmer, untreated areas.
Additional information
| | |
| --- | --- |
| Weight | N/A |
| Dimensions | N/A |
| Deer Gard Voltage Options | 110v, 220v, 240v UK style |
Details
Humane. Ultrasonic sound waves do not harm deer, only irritates them.
This device only repels deer enough to make them leave the treated area.
Designed for residential use
Safe, energy-conscious, green, non-toxic
Easy to operate, motion-activated
WARNING: This product contains DEHP, a phthalate chemical known to the State of California to cause birth defects and other reproductive harm.
Applications
Built especially for small outdoor areas. Effective coverage up to 4,000 sq. ft. per unit.
Effectively Repels:
Ideal For Use At:

Gardens, Lawns, and Backyards
Patios, Porches and Courtyards
Ponds, Rivers, Meadows
Barns, Farms, and Stables
Front and Side Yards
Ornamental Gardens, Shrubs
Community Gardens and Parks
Driveways and Private Roads
Orchards and Vineyards
Benefits
Protect gardens, plants, and property from deer and pest damage
Cut recurring cleanup and repair costs
Reduce health and liability risks associated with deer and pest infestation
Prevent the spread of diseases, such as West Nile, Salmonella, E. Coli, Histoplasmosis, and even rabies (bats)
Save outdoor grounds from pest damage
Increase/maintain property aesthetics
Decrease nuisance for residents, workers, customers, & other visitors
Specs
Unit Dimensions: 6.75" x 5.5" x 3.5"
Box dimensions: 10″ x 8″ x 4″ / Shipping weight: 3 lbs
AC Power Cord Length: 30 ft. (all versions)
Coverage: Up to 4,000 sq. ft.
Frequency: 15–25 kHz (adjustable)
Sound Pressure: 90 dB at 1 meter
Electricity Costs: Less than $0.25 per month
Compliance: EPA Est. 089624-CHN-001. CE marked
Motion Sensor Range: 35' x 70'
Working Current: <200mA
Power Supply: 4 x 1.5V "C" batteries or 120vAC adaptor. Other voltage adaptors should be purchased locally. Unit switches to battery power during a power failure (if batteries are in).
Please note 240v adapter option – UK style pins only. Unit will work with locally sourced 12v/240v adapters. Please contact customer service for other options.