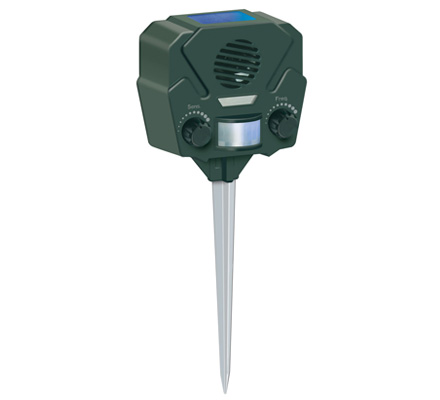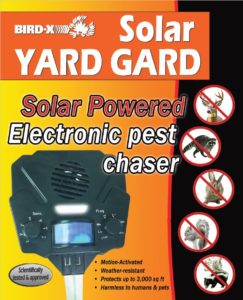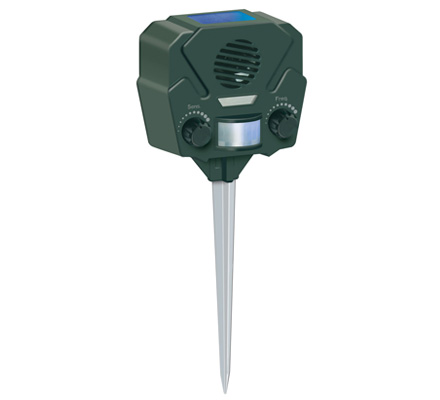 Solar Yard Gard
$49.00

  New and Improved Ultrasonic Pest Control Device

  Humane Pest Control for Unwanted Yard Animals


  Inexpensive, Effective, Solar-Powered Solution


  Money-Back Guarantee!High-Tech Pest Control Powered by the Sun.
Humanely keep pest animals out of your yard without poisons or traps. High-frequency soundwaves (silent to most humans) irritate and annoy common yard pests, making them seek calmer, untreated areas.
Water and weather resistant; protects up to 3,000 sq. ft
Comes with USB charging cable
Equipped with optional LED flashing ON/OFF light
Safe, energy-conscious, and non-toxic
Easy to operate and motion-activated
Additional information
| | |
| --- | --- |
| Weight | 2 lbs |
| Dimensions | 10 x 8 x 4 in |
Details
Deters pest animals with ultrasonic (nearly silent-to-humans) sound waves

Built-in infrared motion detector activates when pests move into its coverage zone
Has optional LED flashing ON/OFF light
Motion-sensor operation model
No screws needed to attach stake
WARNING: This product contains DEHP, a phthalate chemical known to the State of California to cause birth defects and other reproductive harm.
Applications
Built especially for small outdoor areas. Effective coverage up to 3,000 sq. ft.
Effectively Repels:
Ideal For Use At:

Gardens, Lawns, and Backyards
Patios, Porches and Courtyards
Mudrooms and Semi-Enclosed Spaces
Barns, Farms, and Stables
Boats, Docks and Marinas
Front & Side Yards
Koi Ponds
Garages, Basements, Attics
Community Gardens and Parks
Greenhouses
Benefits
Cut recurring cleanup and repair costs
Prevent the spread of diseases, such as rabies (bats)
Keep parasites, such as ticks, mites, and fleas, away from your property
Protect gardens, lawns, and trees from pest animal damage
Increase/maintain property aesthetics
Decrease nuisance for residents, workers, customers, and other visitors