Don't Let the Bed Bugs Bite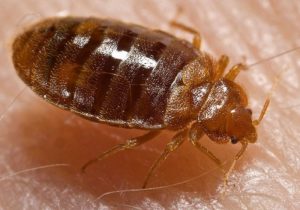 What creature feeds on humans and lives in the dark? No, it's not a vampire—it's a bed bug! Bed bugs can lurk in even the smallest hiding places and can wreak havoc on you and your loved ones.
But, how do you know if you have bed bugs? One sign would be a sudden rash or lots of small bites appearing on your skin. Shedded skin remnants, fecal matter, or even small white eggs could also indicate an infestation problem. When bed bug evidence appears in your home, the main goal is to eradicate them as quickly as possible.
Though, according to Liherald.com, the high risk of reporting bed bugs has caused many unreported cases in Long Beach City, New York, where two apartments were recently sprayed at the Channel Park Homes. "…A teacher in the school district noticed bed bug bites on two children…but noted that the parent did not report the incident out of fear of being evicted," the article states.
Long Island Housing Authority Executive Director Mike Cruz said, "The Housing Authority has invested about $50,000 to address safety issues during the past year throughout the four buildings [we] maintain across Long Beach, a portion of which is allocated for extermination." These kinds of treatments, along with the inspection process and the time it takes to replace infected furnishings, all amount to the massive cost of bed bugs.
WAOW.com reports that bed bug infiltration has become a real problem in Marshfield, Wisconsin. "At least 5-10 cases of bed bugs have been reported…since mid-December," the article says. Despite all the trouble, WAOW makes an important note that bed bugs are fairly harmless, as they do not host or transfer diseases. However, this does not eliminate the need to take preventative measures.
Bird-X understands the inconvenience of bed bugs. As a leading brand of humane pest and bird control solutions, Bird-X recognizes the need to identify bed bugs within its early stages. Products like our Bed Bug ALERT Monitor act as a detection device to lure bed bugs in and expose their presence.