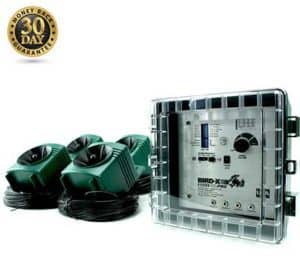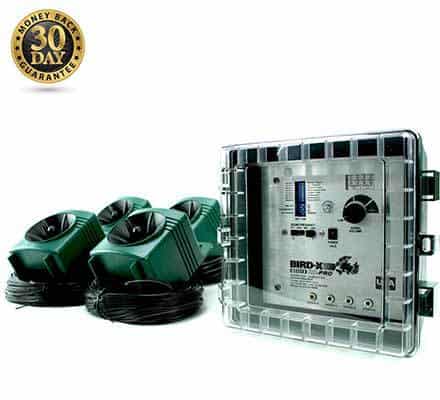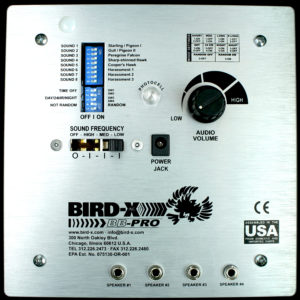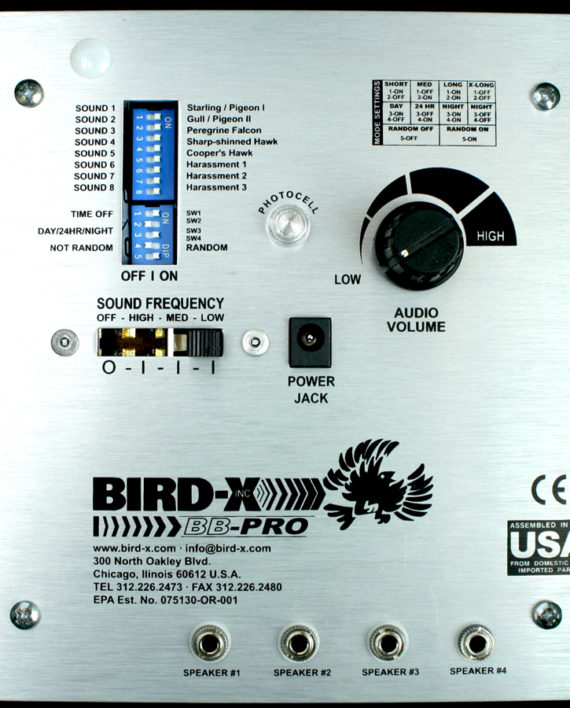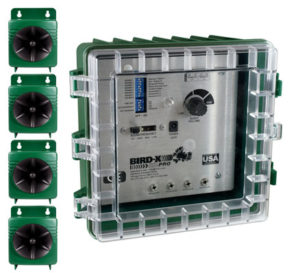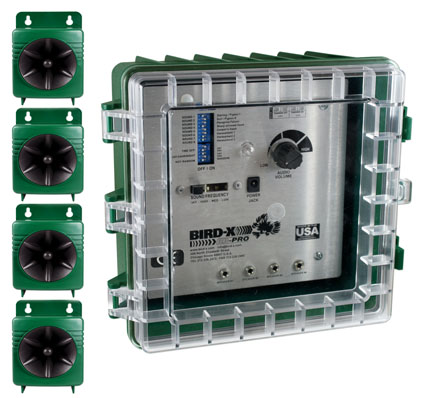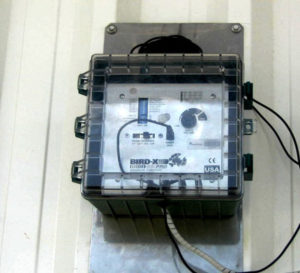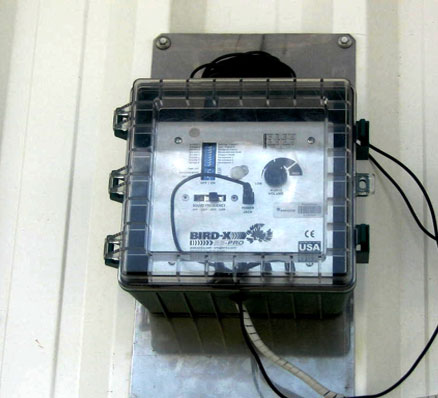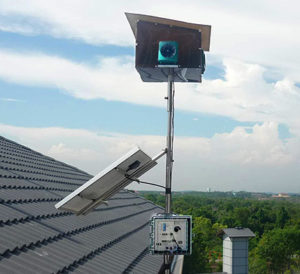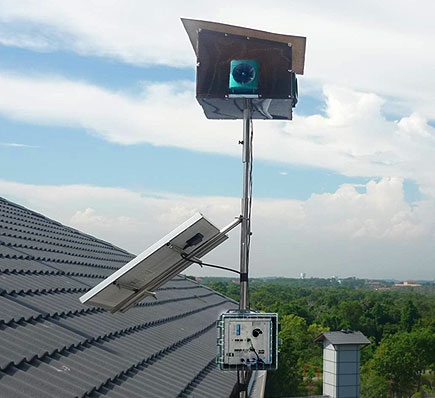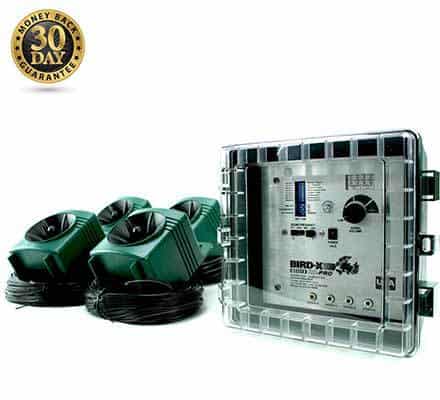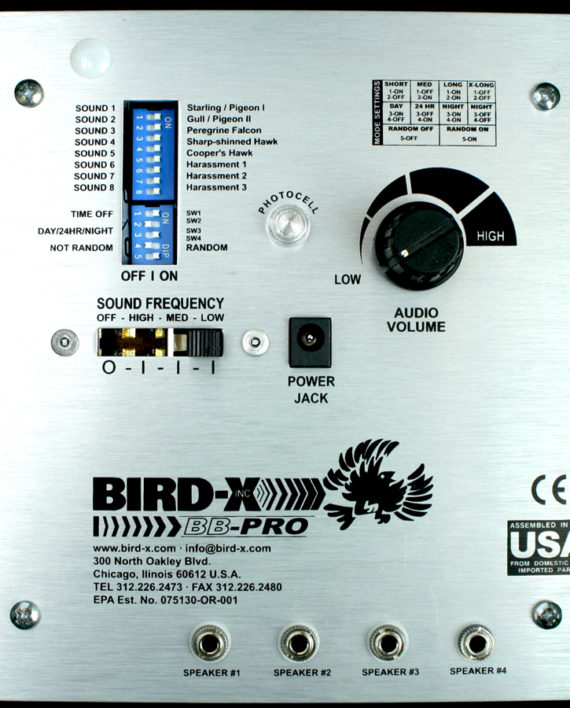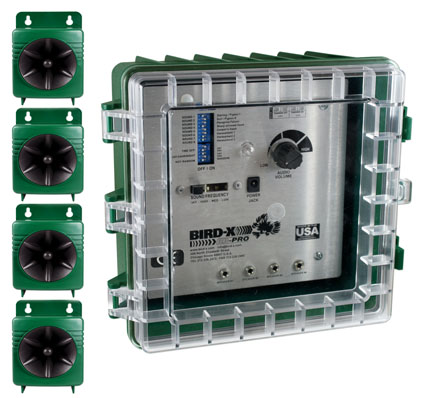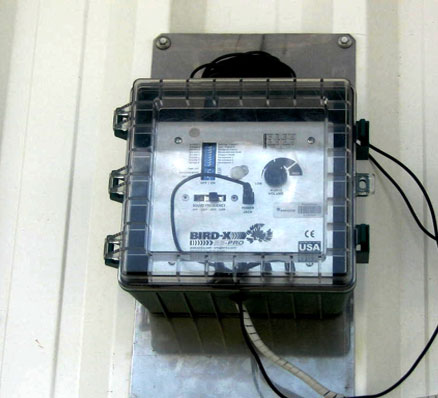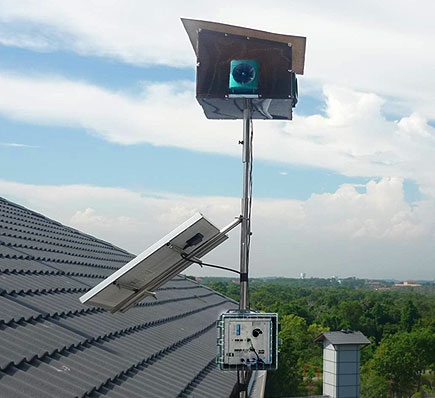 BroadBand PRO
$725.00 – $770.00

  Combines SONIC & ULTRASONIC Bird Control Technology 

  Creates Uninviting Environment For Birds

  Covers Up To SIX ACRES
IN STOCK – AVAILABLE IMMEDIATELY!
Deter Birds With Multi-Faceted Sonic and Ultrasonic Attack! The BroadBand PRO's 4-speaker system simultaneously emits sounds that are both audible and inaudible to humans that confuse, disorient, and intimidate pest birds, keeping them away.
Starting at $850.00   NOW $725.00 (15% SAVINGS!)

Voltage Options
110v
110v w/3 visuals
220v
220v w/3 visuals
240v UK Style
240v UK Style w/3 visuals
Clear selection
Additional information
| | |
| --- | --- |
| Weight | N/A |
| Dimensions | N/A |
| BroadBand PRO Voltage Options | 110v, 110v w/3 visuals, 220v, 220v w/3 visuals, 240v UK Style, 240v UK Style w/3 visuals |
Details
Backed by our 30 Day Electronics Performance Satisfaction Guarantee AND our 6-Month Manufacturer's Warranty Against Material Defects.
Option to add 3 Visual Scares to package for added efficacy
Emits a combination of audible noises & high-frequency sound waves that are silent-to-most-humans

SONIC: Uses naturally-recorded bird distress calls & predator cries; covers up to 6 acres
ULTRASONIC: Uses high-frequency sound waves; covers up to 3,600 sq. ft.

4 speakers included – 4 independent speakers with 100 ft. of wire each
Fully programmable – control volume, sound delays, & daylight / night operation
Weather resistant – NEMA type box is designed to withstand outdoor use
Option to add an assortment of three (3) high-quality visual scare products
Applications
Recommended for use in outdoor areas. Effective coverage up to 6 acres (261,360 sq. ft.) Sonic, 3,600 sq. ft. Ultrasonic.
Effectively Repels:
Ideal For Use At:

Warehouses & Manufacturing Facilities
Parking Garages & Lots
Large Gardens, Homes, & Patios
Waterfront property & boat docks
Corporate Grounds
Loading Docks & Transportation Platforms
Farm Fields, Orchards, & Vineyards
Barnes & Stables
Facilities & Corporate Grounds
Apartments & Condo Buildings
Sheds, Landfills, & Storage Buildings
Any large outdoor area with a bird infestation
Benefits
Cut recurring cleanup and repair costs
Protect buildings and equipment from corrosive bird droppings
Reduce health and liability risks associated with pest bird infestation
Prevent the spread of diseases, such as West Nile, Salmonella and E. Coli
Eliminate fire hazards caused by birds building nests in vents and chimneys
Avoid government and safety inspection failures
Save parks, yards, corporate grounds, pools, ponds, turf, etc. from bird damage
Increase/maintain property aesthetics
Decrease nuisance for residents, workers, customers, etc.
Specs
Dimensions: Control Unit 9" x 9" x 5", Speakers 4" x 4" x 6"
Box dimensions: 19″ x 13″ x 8″ / Shipping weight: 10 lbs
Speakers: 8 ohms, 75 watts
Coverage: Up to 3,600 sq. ft (ultrasonic), up to 6 acres (sonic)
Power Requirements: 110vAC (220vAC available)
110v, 220v and 240v cords are 6 ft
Sound Pressure: Ultrasonic sounds 95–102 dB (each speaker) at 1 meter, Sonic 105–110 dB (each speaker) at 1 meter
Frequency: Ultrasonic 15–25 kHz, Sonic 3–5 kHz
Compliance: Supply power source is UL and CE listed
EPA Est. 075130-OR-001
NEMA type box
Proudly made in the USA
This unit includes a control box that uses a replaceable chip–any chip from the Sound Recordings Chip List is compatible.
Please note 240v adapter option – UK style pins only. Unit will work with locally sourced 12v/240v adapters. Please contact customer service for other options
Download BroadBand PRO Instructions